This isn't the Shadow they want Dark Pit fighting...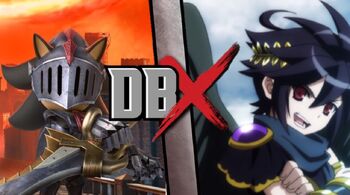 DARK PIT VS SHADOW AS A KNIGHT SIR LANCELOT
"The coast is clear." A black angel boy said to himself before flying onto a street. He was sent against his will to find and kill a knight named Sir Lancelot. He saw a black hedgehog knight, who looked just like Lancelot in the picture.
"So you must be Sir Lancelot." The angel said. "I'm Dark Pit, and I've come here to kill you." Dark Pit got ready for fighting as Lancelot did the same.
HERE WE GO!
Dark Pit ran at Lancelot, only for the knight to kick him in the chest. D-Pit fell down and used the Silver Bow, an arrow hitting Lancelot in the face. Lancelot sliced at Pittoo, who used the Violet Palm, which fired shots at Lancelot, cancelling his attack. Lancelot and Dark Pit sliced at each other.
D-Pit quickly punched Lancelot in the chest, followed by firing more arrows from the silver bow. Lancelot deflects them with his sword which he almost impaled D-Pit with, but Pittoo dodged. Pittoo ran forward and used the Electroshock Arm on Lancelot.
But that wasn't all. We all know Metal + Electricity = Bad Stuff, and Pittoo's Elctroshock Arm hit the metal, sooooo....
Lancelot was electrocuted to death.
DBX