"YOU THOUGHT PITTOO WOULD BE NEXT, BUT IT WAS ME! DIO!"
"hey, calm down dude--"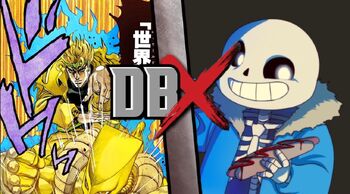 "MUDAMUDAMUDAMUDA"
DIO BRANDO VS SANS
A skeleton was walking along Snowdin when he saw a figure that resembled his brother. "bro...?" The skeleton asked, only to see someone else.
"YOU THOUGHT IT WOULD BE PAPYRUS, BUT IT WAS ME, DIO!"
"wait, how did you know his name--"
"MUDAMUDAMUDAMUDAMUDAMUDAMUDAMUDA!"
He quickly dodged the flurry of punches from DIO.
"you wanna fight?" the skeleton, Sans, asked.
"then let's go."
HERE WE GO!
Sans summoned a few Gaster Blasters, but DIO summoned The World.
"MUDAMUDAMUDAMUDAMUDAMUDAMUDAMUDAMUDAMUDAMUDAMUDAMUDAMUDAMUDAMUDA!"
The World blocked the Gaster Blasters. Suddenly, bones came out of the ground and hit The World. As The World was startled, Sans summoned more GBs, which fired at TW. TW snapped out of it at the last second aaaand...
"MUDAMUDAMUDAMUDAMUDAMUDAMUDAMUDAMUDAMUDAMUDAMUDAMUDAMUDAMUDAMUDAMUDAMUDAMUDAMUDAMUDAMUDAMUDAMUDAMUDAMUDAMUDAMUDAMUDAMUDAMUDAMUDA!"
...yeah.
"alright, no more joking around. i'm fully serious this time."
Sans grabbed DIO with telekinesis by the SOUL and threw him across the area several times. Sans finished it off with a downward slam. As Sans walked away, he heard something.
"MUDAMUDAMUDAMUDAMUDAMUDAMUDAMUDAMUDAMUDAMUDAMUDAMUDAMUDAMUDAMUDAMUDAMUDAMUDAMUDAMUDAMUDAMUDAMUDAMUDAMUDAMUDAMUDAMUDAMUDAMUDAMUDAMUDAMUDAMUDAMUDAMUDAMUDAMUDAMUDAMUDAMUDAMUDAMUDAMUDAMUDAMUDAMUDAMUDAMUDAMUDAMUDAMUDAMUDAMUDAMUDAMUDAMUDAMUDAMUDAMUDAMUDAMUDAMUDAMUDAMUDAMUDAMUDAMUDAMUDAMUDAMUDAMUDAMUDAMUDAMUDAMUDAMUDAMUDAMUDAMUDAMUDAMUDAMUDAMUDAMUDAMUDAMUDAMUDAMUDAMUDAMUDAMUDAMUDAMUDAMUDA!!!!"
"gah!"
Sans barely dodged, followed by a Gaster Blaster appearing right in front of The World, firing too quickly for TW to block. DIO was shocked.
"time to end this!"
Sans once again grabbed DIO telekinetically, only to throw him back and walk away. Bones came out of the ground below DIO. DIO landed on the bones, which stabbed him.
DBX