Dr. Ivo Eggman Robotnik is the main antagonist of the Sonic the Hedgehog series, he and his army fought Dr. Wily and his army in an episode of Death Battle. He then fought Bowser in an episode of One Minute Melee.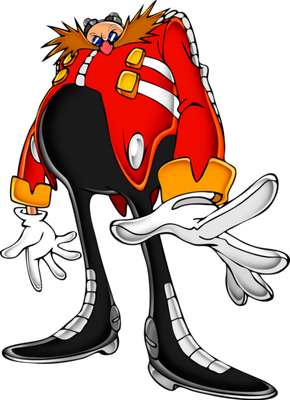 Fanon Wiki Ideas
Completed Battles:
Possible Opponents
DC Comics

Maxwell Lord
Largleeze
Penguin
Egg-Fu

Dr. Nefarious (Ratchet & Clank)
Pete (Mickey and Friends)
Mojo Jojo (The Powerpuff Girls)
Plankton (SpongeBob SquarePants)
Looney Tunes
Dialga (Pokémon/with Time Eater)
Felonious Gru (Despicable Me)
Robbie Rotten (LazyTown)
Dragon Ball
Mandark (Dexter's Laboratory)
Teenage Mutant Ninja Turtles

Lord Dregg
Baxter Stockman

Darth Vader (Star Wars)
Megamind (...)
Marvel
Dr. Neo Cortex (Crash Bandicoot)
Sigma (Mega Man X)
Tron Bonne (Mega Man Legends)
President Haltmann (Kirby)
Dr. Doofenshmirtz (Phineas and Ferb)
Super Mario Bros.

9-Volt
Nabbit
Mallow
King Boo
Roy Koopa
Queen Bee
Ludwig von Koopa
Culex (With Time Eater)
Community content is available under
CC-BY-SA
unless otherwise noted.